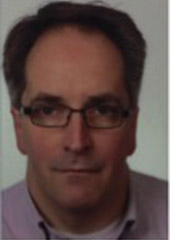 Name: Dr. Walter Grünberg, MS, PhD. University of Veterinary Medicine Hannover.
Website: https://www.tiho-hannover.de/kliniken-institute/kliniken/rikli/forschung/arbeitsgruppen/ag-innere-medizin-und-chirurgie/id127661/
Short introduction:
Walter Grünberg is a senior researcher and clinician at the Clinic for Cattle, University of Veterinary Medicine Hannover with specialty in bovine internal medicine. Walter graduated from the University of Veterinary Medicine Vienna, Austria and obtained a doctoral degree from the University of Veterinary Medicine Hannover, Germany. After several years in food animal practice, Walter returned to academia and held research- and clinical track positions at the Veterinary Teaching Hospitals of the Free University Berlin, the University of Illinois at Urbana-Champaign, Purdue University and Utrecht University. Beside of holding board certifications in animal reproduction and bovine health management Walter has been granted the status of associate diplomate of the ACVIM. His research focus is on metabolic diseases, with an emphasis on mineral-, electrolyte and acid-base imbalances in cows and calves. Walter has authored or coauthored of over 60 scientific publications, numerous book chapters and is coeditor of the 11th edition of Veterinary Medicine, a textbook of the diseases of cattle, horses, sheep, pigs, and goats.