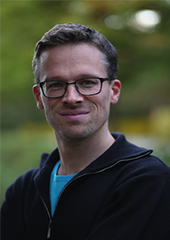 Name: Jo Leroy , full professor at the University of Antwerp.

Website: https://www.uantwerpen.be/nl/personeel/jo-leroy/ , www.uantwerp.be/veterinary-physiology-biochemistry
Short introduction:
Jo Leroy graduated as a Veterinarian, specialized in ruminants, in 2001 after which he continued with his PhD research at the Faculty of Veterinary Medicine (University of Ghent, Belgium). During this PhD period he investigated the impact of the negative energy balance in dairy cows on reproductive physiology and on oocyte and embryo quality. During that 4 year period he also contributed in the ambulatory large animal clinic and herd health services.
In fall 2006 Leroy moved to the University of Antwerp teaching Veterinary Physiology, Pathophysiology and Husbandry to the bachelor students of veterinary sciences. Furthermore, he was able to build his own research line focusing on the effect of maternal metabolic health on the quality of the oocyte and the embryo and on the health of the offspring. Both in vitro and in vivo models are used. The dairy cow model shows to be ideal to study the impact of maternal health on the very first steps of new life. Many of the study results are relevant for human reproductive medicine as well.
He stayed involved in the field and activities of potential stakeholders (dairy industry, feeding industry, human assisted reproduction) as board member of scientific and more applied associations (AETE), and as expert panel member of industrial partners. Jo Leroy is often invited as a speaker or a consultant. He is the author of more than 100 peer reviewed scientific papers and supervised more than 10 PhD theses. All this is combined with a heavy teaching load. Since 1 January 2018 he is appointed as a full professor at the University of Antwerp.